SPECIALTY: Invasive Cardiology
EDUCATION: 
Undergraduate: Iowa State University
Medical School: University of Iowa
Residency: Oregon Health & Sciences University
Fellowship: University of Iowa
YEARS PRACTICING: 4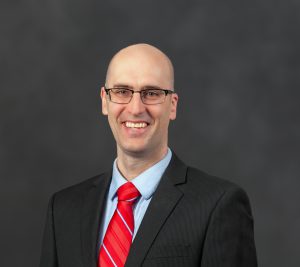 Nathan Funk was born in a small rural town in northwest Iowa. After initially following in his father's footsteps into veterinary medicine at Iowa State University, Nathan changed directions and entered medical school at the University of Iowa. After graduation Nathan headed to Oregon Health Sciences University in Portland for his internal medicine training.
Prior to going back to Iowa to complete cardiology training, Nathan spent a year in Alaska working for the Alaska Native Medical Center as an internist. During cardiology fellowship training, he has taken a special interest in cardiac imaging and valvular heart disease.
Nathan and his wife are happy to be in Southern Oregon raising their growing family with a deep appreciation for the outdoors. They enjoy hiking, camping, and trail running.