SPECIALTY: Interventional Cardiology
EDUCATION
Undergraduate: Indiana University
Medical School & PhD: Washington University
Residency: Duke University
Fellowship: Cleveland Clinic
YEARS PRACTICING: 3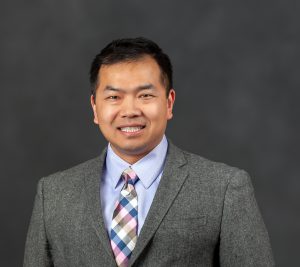 Junyang "J.L." Lou obtained his undergraduate degree in biochemistry at Indiana University and his MD and PhD degrees at Washington University in St. Louis. Dr. Lou completed his internal medicine training at Duke University, and spent the next five years at the Cleveland Clinic as a fellow in general and interventional cardiology. He joined SOC in 2015.
Dr. Lou is board certified in Internal Medicine, General Cardiology, Interventional Cardiology, Nuclear Cardiology and Endovascular Medicine (ABVM). He is a registered physician in vascular interpretation (RPVI) and a Fellow of the Society for Cardiovascular Angiography and Intervention (FSCAI).  His clinical interests include valvular and structural heart disease, as well as peripheral vascular disease. Dr. Lou is trained in multiple techniques of cardiovascular interventions, including stenting, atherectomy and chronic total occlusions (CTOs). In response to FDA approval, he began offering catheter-based therapies for congenital cardiac conditions such as patent foramen ovale (PFO) in 2016 .
Dr. Lou enjoys spending time with his three children and wife, who is also a physician. In his spare time, he could be found hitting the gym or playing backyard football. Having moved from China to the United States as a child, Dr. Lou has retained his fluency in Mandarin Chinese.